NEW: Find, tag, and act on key contacts faster
Rudy Lai · May 12, 2021
As enterprise sales people, whether you are prospecting, upselling, or nurturing an account, talking to the right people is key. You are already good at using Tactic to run many people searches in one go, saving time digging through LinkedIn, Salesforce, and tools like ZoomInfo.
Today, we are upgrading your tools to find, tag, and act on key contacts. You'll now be able to mark contacts as next steps, remove irrelevant contacts, and setup filters to block out useless keywords.
At the same time, you'll also be teaching the machine who is more relevant, and it will rank people search results better over time.
Mark Contacts as Next Steps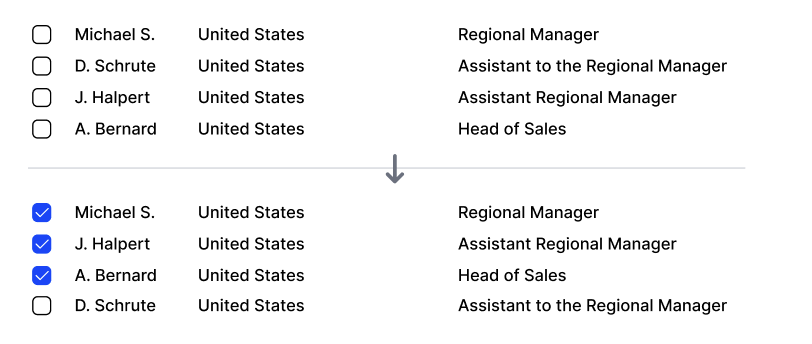 You can now use the checkbox next to each contact to mark who you are targeting. This is now saved in your account, so you can come back later and all the right people will still be highlighted. They will also be moved to the top of the people search results table.
Using the copy tool, you can also build out CSVs for bulk contact creation and cadence setting.
Remove Irrelevant Contacts
As we learn more about our target market, we start to know who in the org are less relevant. You can now click the "X" button on the right of each contact to remove them. This is again saved in your account, so you can actually have only the right people in each research report.
Filter out roles/titles
Many industries, like law and finance, adopt non-standard title. For example, investment bank "vice presidents" work under "directors". In the Persona tab, you can now specify role and title keywords to exclude, which hides those contacts directly.
Faster Learning
As you interact with each search result, you are teaching the machine to help surface more relevant information. For contacts, we look at their title, extract keywords (removing things like "Director of") and use that to rank future people search results. Marking as a next step is an "upvote" and dismissing them is a "downvote".
This helps you get personalized results as you use the product more and more.
---
As always, I am available on email, chat, and phone, and I am looking forward to your comments and feedback on our product.
Ready to see Tactic in action?
Book a personalised demo of Tactic