Tactic for Sales
Automate your research. Generate more pipeline.
Increase pipeline, reduce ramp and save millions of hours of manual research and data entry by automating company and prospect research.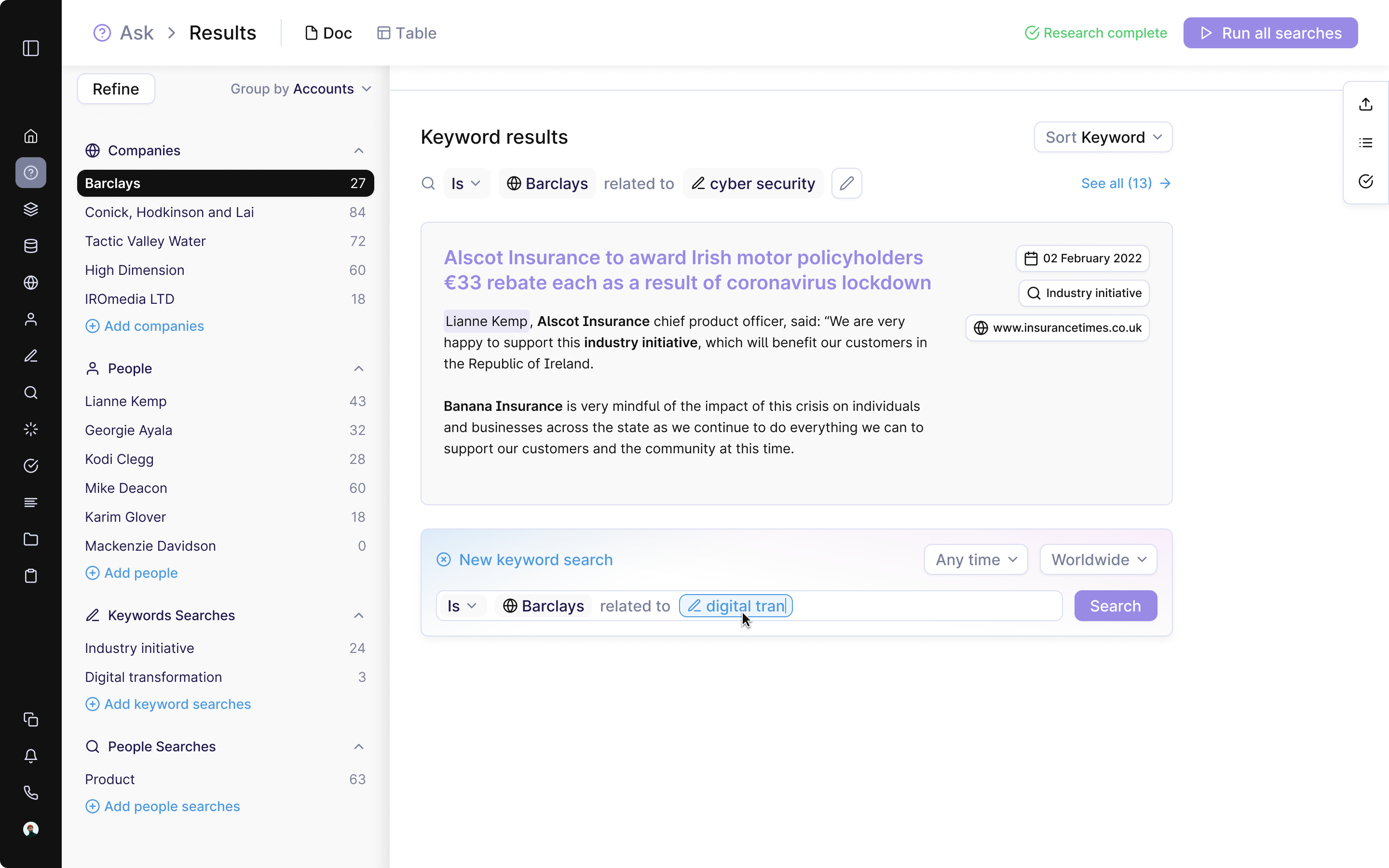 Problems we solve for Sales ↓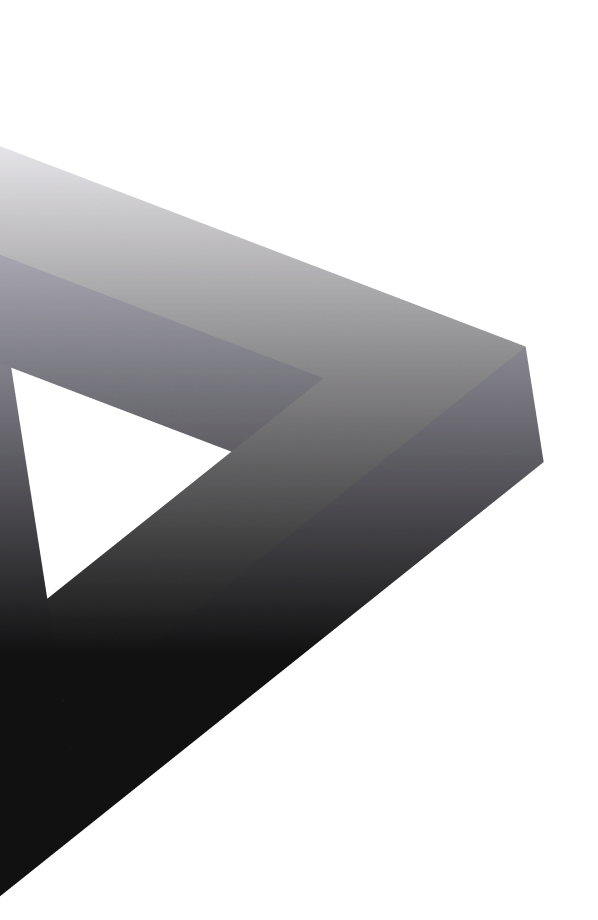 Your sales targets get higher, but your data stays flat
Hitting a higher and higher quota is stressful, and you aim to get there with strategic, insightful selling. Unfortunately, you spend all day on pre-call research, prioritising accounts, finding new opportunities, and not spending enough time speaking to actual customers.
Tactic enables you to make decisions with 10x the insight across the sales cycle in just a few clicks. You'll prospect faster, engage with more insight, and close bigger deals.
Get your targets' attention with unparalleled relevancy
Even with the best people skills, if you don't have relevant insights to call the right people at the right time, with the right message, you won't land the sale.
Filter and prioritise accounts using natural language
Cross-search hyperspecific queries to pinpoint your ideal customers, even when opening up prospecting to new segments and industries.
Find quotes and interviews for powerful talking points
Surface snippets from news and web content (including PDFs), highlighting key hooks and triggers for you to catch prospects' attention.
Collaborate across sales, marketing and success
Share your Tactic projects with sales and business development colleagues, so you can keep your prospects and leads managed and up-to-date in one place.
Example data point: finding quotes from CEOs, CTOs, and other C-Level execs →
Tactic is for
Sales Development Reps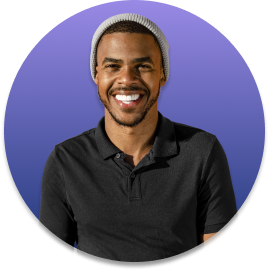 "I don't know who to call first."
"I relied on my colleagues to help me prioritise my work."
CROs/Sales Leaders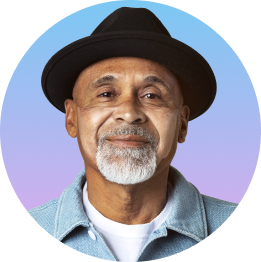 "My team weren't getting enough pipeline from ICP accounts."
"We couldn't even get on the phone with prospects before our competitors closed with them."
Account Executives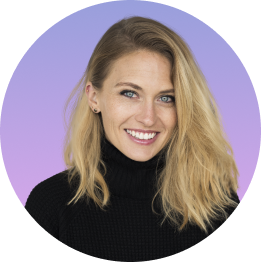 "I struggled to find high fit opportunities."
"I wasn't confident about prospecting and account planning."
Top features for Sales teams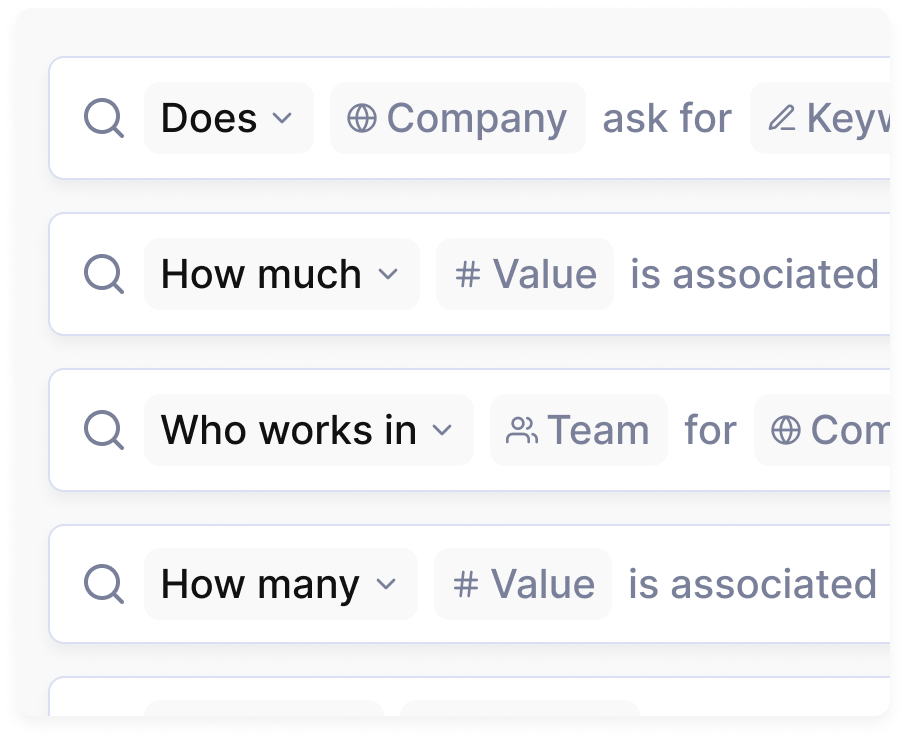 A search engine for everything
You can finally close all your browser tabs, because Tactic will search for insights across the whole web including annual company reports, T&Cs, 'about us' pages, LinkedIn, Zoominfo, nestled PDFs, job posts and more.
Adjustable reports
You can be agile with your data, curating reports from your Tactic results in just a few clicks to have the relevant people and keyword insights to hand while you're on a sales call or designing your outbound messaging.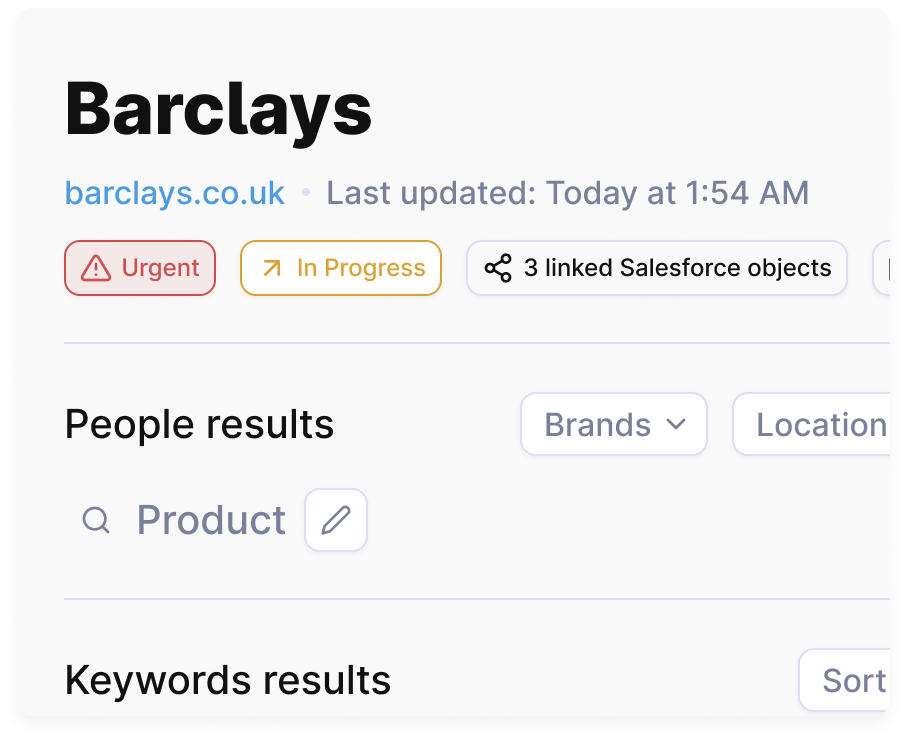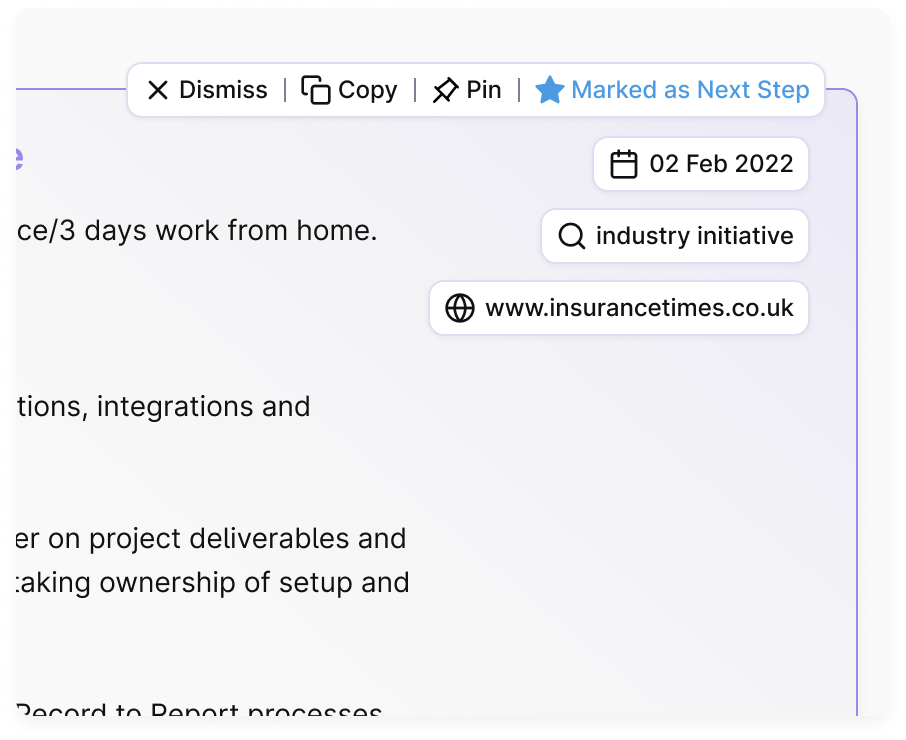 Set up the next steps
You can set up Tactic to automatically trigger account prioritisation within Salesforce, email campaigns and updates to your call list based on any updates to your insights when you re-run your project.
Tactic for Marketing
Build accurate targeted audiences
Increase inbound conversion
Launch campaigns with confidence
Improve cost per acquisition
Learn More
Tactic for RevOps
Clean data into viable accounts
Expand market with new segments
Increase all-bound conversion rate
Budget your hiring
Learn More
Ready to see Tactic in action?
Book a personalised demo of Tactic