Tactic's $4.5M Series Seed – a look into the future
Rudy Lai · March 10, 2022
Two years since we founded Tactic, we have adopted a powerful new brand and assembled twenty world class experts to build the future of search. We've scaled our product to deliver 100,000,000 answers a month, helping enterprise customers reduce marketing spend and create compelling messaging.
Today, I am ecstatic to announce that we raised $4.5 million in Series Seed funding led by Index Ventures and Visionaries Club, and joined by our existing investors IFG.VC. We are also grateful to have amazing angels onboard, including Rupert Brennikmeijer (Contentful), Christian Reber (Pitch), Hiroki Takeuchi (GoCardless), Monica Sarbu (Elastic, Xata.io) and David Helgason (Unity), and many more.
Our Seed round allows us to bring Tactic into a new phase, in which we build on our potential and double down on our mission and vision. I'm proud to present this journey to you.
Read more about the seed round funding on TechCrunch.
Since founding Tactic, Jack and I have pursued the vision of empowering anyone to make better decisions by getting the right insights at the right time. Our mission is to be the ultimate tool for automating, finding and summarising information without knowing a line of code.
2022 presents a roadmap filled to the brim with improvements, such as more precise question answering ("Which CEO talked about digital transformation in the last year, on a quarterly earnings call?"), a faster and more flexible product experience, and powerful Salesforce integrations — all while pushing the bar on our great customer experience and expanding our team.
Let me bring you through how we are planning to tackle the next generation of search and summarisation.
"What does an automated research analyst look like?"
In interviews with hundreds of customers over the past year, we asked one question: "What does an automated research analyst look like?". Two things came to focus: the product needs to digest large amounts of information, and it needs to push the findings back to the user in a relevant way. For us, this is not only an AI problem, but one that takes three superpowers to solve: design, machine learning, and a planet scale user experience.
Intuitive design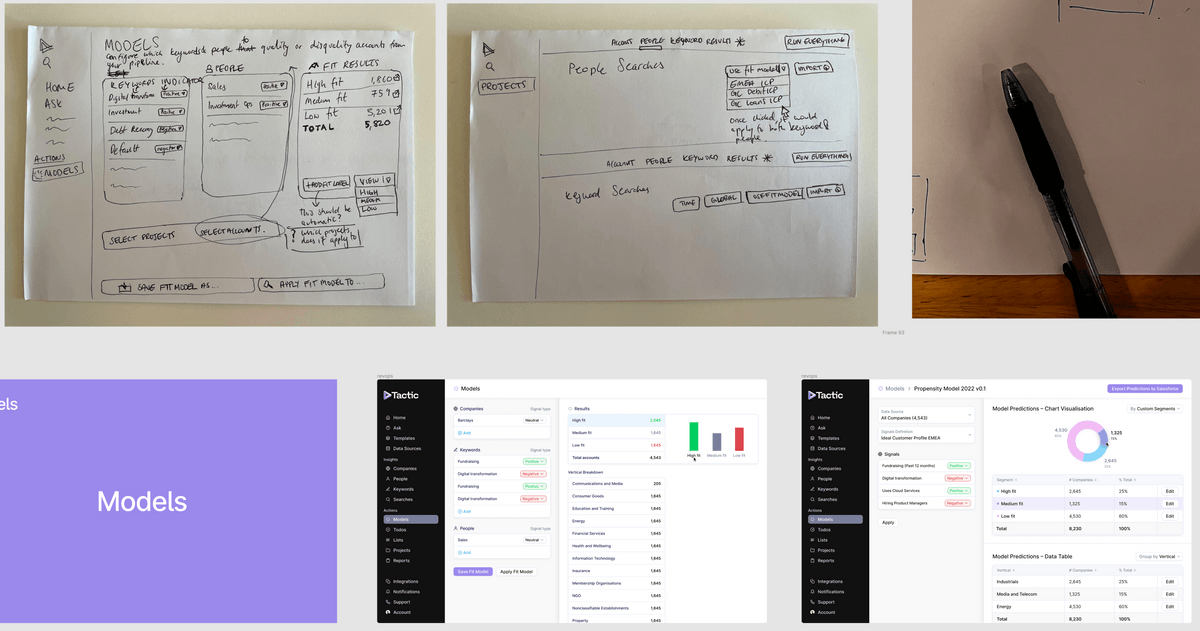 How do we solve this need with design? Time and again, we have observed that humans have trouble digesting large amounts of data. Big data is hard, unintuitive, time-consuming and costly.
Most knowledge workers can't afford to spend even more of their time on research work. We lead our product development with design thinking: developing a framework to understand how humans interact with information, and reimagining tools for how unstructured data can be manipulated and visualised.
Instead of going down the path of AI assistant products like Siri and Alexa, we are creating a powerful web application that gives users control over every aspect of searching, visualising and manipulating big data, while making sure that this complexity is still intuitive and user-friendly.
In January this year, we embarked on a complete redesign of the Tactic platform, which we will roll out over the course of 2022.
Machine learning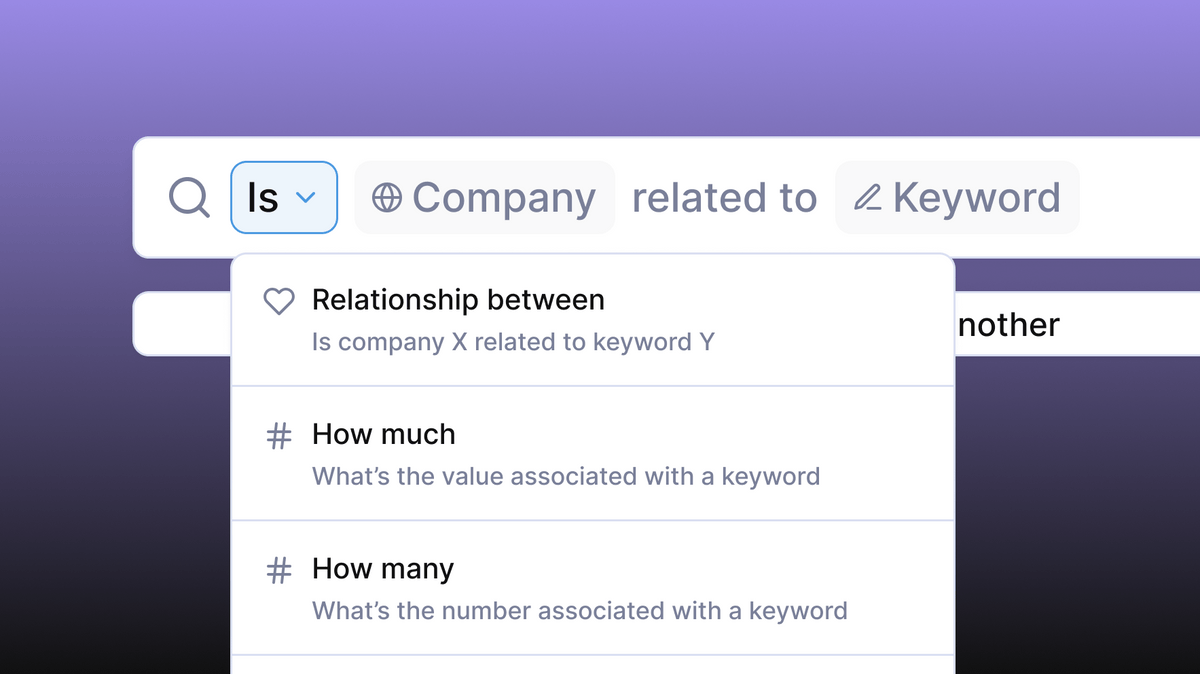 This year, the app is going to start learning from you. As you interact with your data, your feedback (pinning results, pushing contacts to your CRM, and more) will be used to make the results more relevant for you, your team, and your organisation. We'll be launching more personalisation features, and digging into the cutting edge of question answering.
Our users harness the power of Tactic by asking sets of specific questions in plain language. The queries work together to surface clean, relevant insights. Today, you can ask "Which Fortune 500 CEO talked about digital transformation?"; Soon, you will be able to ask "Which Fortune 500 CEO talked about digital transformation in the last 3 months, on a quarterly earnings call, about the Nordic region?"
We're teaching Tactic to detect when answers are simple and unambiguous, and when they require further context in the form of footnotes. For example, soon you will be able to ask "When was the current CEO of Barclays appointed?", and Tactic will answer "2021". If you look for a more subjective topic, "What is the mission statement of Barclays?", Tactic surfaces and prioritises relevant insights from across the company website and web.
Bottom line, we're building a unique technology to structure the data that you summon with your search terms and lead lists.
Planet scale
The final ingredient is a scalable user experience. Since we enable customers to find to who to call, when, and why, we impact every dollar in B2B marketing, every campaign crafted by sales and marketing, and every go-to-market decision around total addressable market. We are building a web application that supports millions of rows of data, powering millions of dollars of ad spend.
Next, we need petabytes of text data and documents. Not only do we want to index everything on the internet, we want to give you the power to find answers in the data you own. We want to enable you to upload your own data, such as CRM notes, case studies, and other internal data. Of course, you can expect enterprise grade security, making sure that your data stays in your hands.
Lastly, instant answers for millions of users per minute. Delivering data to end users is a key challenge for many businesses. How do you keep the data in sync? How do you version the data? How do you collect feedback? Often its done with lots of Zoom calls and even more spreadsheets. We are building a product that enables your entire team to work on the data that powers your business, whether that's 3 people in a workspace, or 100,000 on Wall Street.
What's next
Tactic helps you end the chase for niche data vendors. By structuring unstructured data from the internet, we enable you to create data, flexibly, over and over, on Tactic. The power to edit your available data as needed is our north star as we build our data pipeline, refine our algorithms and expand our search capabilities.
We know that 40% of research and data work involves finding and summarising information, which in itself is a huge number of steps: wrestling with search terms, scrolling through irrelevant results, formatting useful information into spreadsheets. We are on a journey to automate this hassle, and give people the tool they need to find 10x the information.
Just before you go
This is a small preview of what's next, and I am sure you are itching to tell us what you want to see from Tactic in the next three quarters. We think big because our customers do, and we look forward to every customer conversation that teaches us something new. Thank you to all of our customers, our users, and our amazing team for making Tactic magical. If automating 40% of knowledge work excites you, we'd love to talk.
Finally, if you are new here, we'd love for you to experience the magic of Tactic first hand. Sign up and tell us what you think.
Ready to see Tactic in action?
Book a personalised demo of Tactic