Introducing Martin Dimitrov, Commercial Lead
Lucy Talbot · March 23, 2022
This is the first in our series of team interviews showcasing the talent at Tactic. We are a unique and talented bunch (in our unbiased opinion!), spread around 7 countries and counting. We think the world deserves to meet the personalities who, from Monday to Friday, are typically found building a new category of data automation. Martin has been with us for nearly two years and his growth at Tactic mirrors the growth of our sales and customer success activities. He's the friendly face you've probably chatted with over Zoom while deciding whether Tactic is right for you. Get to know him a little better below.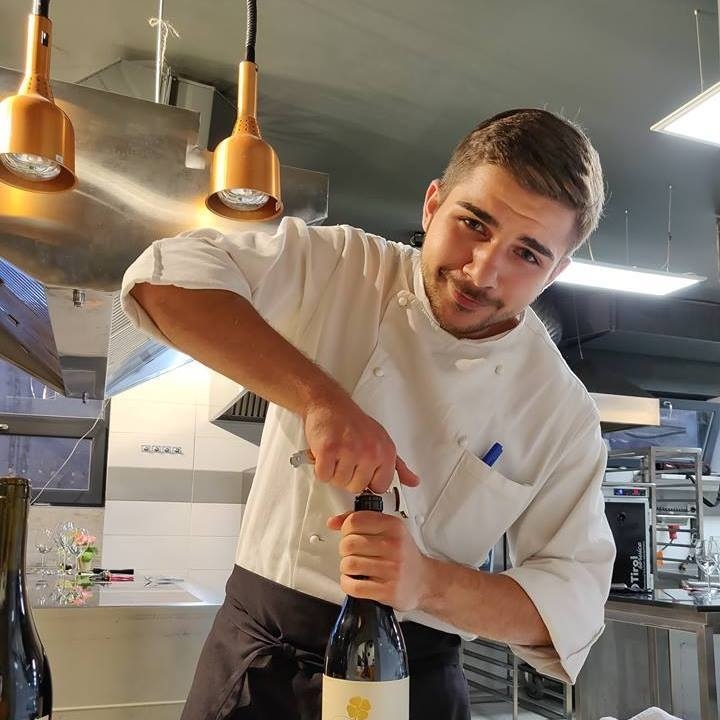 Hi Martin. What's your job?
I am Tactic's Commercial Lead, and (this next bit can surprise people) I came into this knowing almost nothing about tech, the Saas world or the Enterprise world!
Until I joined Tactic, I was working as a Chef in a Michelin-starred kitchen. When I realised I needed to "Covid-proof" my work in case restaurants closed, I started doing part-time data-labelling for Tactic along with a buddy of mine. It was all new to me, but I took to it quickly and after just a couple of weeks Rudy was able to make us full-time and bring me into some customer research and outbound sales projects.
I could always see the potential in Tactic, before I even built any expertise in the area. I remembered how at university my research would take me hours - so I've been excited to help people solve that problem. For the past 18 months Rudy's mentored me and I've gained experience across sales and customer success, which is fantastic because I really enjoy interacting with customers. That may come from my hospitality background. This has already been a great adventure for me, and in many ways it's only just beginning.
Cool. What are you excited to achieve at Tactic?
So many things! The first that comes to mind is signing up a new enterprise client and completing that full sales cycle. I have a busy schedule of calls and demos, and I love using those opportunities to show people ways that Tactic can solve problems.
And what feature are you most excited about, current or future?
Well, Salesforce Sync has to be the top one. We did a lot of market research before designing this integration, and I don't know if the customers are more excited, or if I am! Salesforce Sync is a huge level up for how useful Tactic is in people's stack. It's going to speed up my own day-to-day a lot once we ship it, because I use Tactic a lot in my sales work. (Which, by the way, is the ultimate flex!)
Blue sky thinking: what unexpected use case for Tactic would you love to test?
You know, when I think of unwieldy research I keep thinking back to my time at university. These big institutions, probably laboratories too, have enormous databases that students need to be able to search through. I'd love it if Tactic could be deployed at that scale, helping people find the information that's out there but hard to access. Contributing to medical research, for example, would be pretty cool.
What's your favourite app in your stack - as simple as sticky notes, or as sophisticated as you like - and why?
Definitely Salesloft. It's a tool I use a lot to send out emails, personalised and at scale. It has all sorts of great features. It does all the boring work so I have energy for the hard work. Nothing out there is really perfect, but Salesloft makes my life easier for sure.
If you could work remotely from anywhere in the world for a week, where would it be?
Oh man, I'm stuck between two places. I really love Tenerife. I lived there for 6 months, working at the two Michelin-starred Ritz Carlton restaurant led by Martín Berasategui and it was just an amazing experience on a beautiful island. The other option that comes to mind is some kind of remote mountaintop location, where I could be among nature.
What are your go-to emojis on Slack?
This makes me realise it's the hand gestures! I like :the_horns: and :v: the most. Also the laughing faces, because we all make each other laugh all day.
What food and drink power you through the work day?
8 coffees! That's the main requirement. When it comes to food it varies. Currently I'm on a springtime health kick and I've been preparing all sorts of veggie stir fries.
How do you switch off from work mode?
I wouldn't exactly say I struggle with this, but I have been trying to get better at it. It's so easy to carry on checking Slack, email, etc. when you relax in the same space where you work, and use the same laptop too. Slack has really good features to completely or partially pause notifications so you're not tempted to read all those threads and DMs. If you don't rest, you burn out.
Dogs or cats?
Definitely dogs.
Burgers or hot dogs?
Burgers. You can make a burger great.
Mac or Windows?
Windows.
Slack or Zoom?
Slack I guess, because I use it so much, including with customers.
Film or TV?
I guess neither, really.
City or countryside?
City, for living. But I do think we all need to go to the countryside regularly to clear our heads.
Spring, summer, autumn, winter?
Summer!! Summer is amazing here in Varna, on the Black Sea.
Ready to see Tactic in action?
Book a personalised demo of Tactic